Mea culpa, mea culpa, mea maxima culpa . . . .
(through my fault,
through my fault,
through my most grievous fault . . . .)
Man, do I ever feel like I need to go to confession!
Missy and I went to SWAK on Saturday. Of course, that meant that I also had to go to Michael's, Hobby Lobby, and Border's, but I swear this is all her fault--she got me started . . . .
Now, I have learned over the last few years that restraint is the best way to go in any situation in which I am involved--it's just easier that way. But this weekend, for some reason, I forgot the meaning of the word, as you will see by the following photos. I'm posting these all at once instead of rationing them out over the next few days as a sort of self-inflicted punishment.
First, I kinda went nuts with the yarn--can you tell? This is a lot for me. The three on the left are for hats and a headband (yes, I know it's almost April, but this is Oklahoma--I can guarantee you that we will have at least one more hard freeze before Spring actually, well, springs!). The middle yarns are for socks, except the middle one--SWAK only had one skein, so it may end up being fingerless gloves. The yarn on the right, I swear, has been fated to come home with me for six months. It's Wool in the Woods Twin Twist (92% wool, 8% nylon) in the color "Thief in the Night" (what a cool name!). I have been lusting over this for months, and it was finally on sale, so I bought the last two skeins. It's fated to be toe-up socks. And, of course, I had to buy needles--sizes 0 and 1 for socks, mittens, etc. I also bought a pair of size 15 bamboo needles to use with the bulky yarns.
Then I fell in love with this: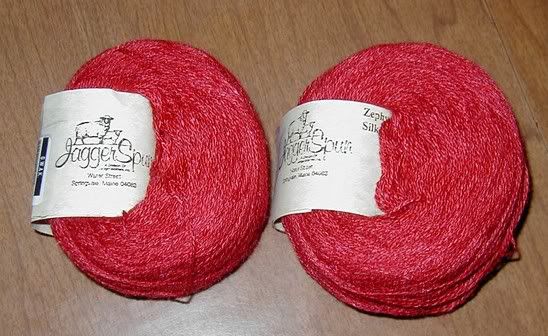 This is Jagger Spun, lace weight, 50% Chinese Tussah silk and 50% Merino wool. The color is "Cinnabar." The color really isn't very good in this photo--think more like cinamon red hots. I want to make a shawl out of this, but I probably will wait to work on it this summer when it's hot, so I have a while to make up my mind as to what pattern to use. Isn't it pretty--I just love it!
Then, I had to buy books. I love books--I have a hard time saying no to any book. But look at these:
I've been wanting all of these for a while, and imagine--finding them all in one day--it was just meant to be. The "Yarns to Dye For" book is really interesting. There are some cute ideas in there--I love the watermelon-patterned yarn they create! The "Color in Spinning" book is wonderful. I don't think anything's been left out. It may take me months to get my head wrapped around all the concepts, but it looks like a great reference book. Since I need a lot of help with color, I think it's definitely worth having.
I also bought two Fiber Trends patterns--the "Sheep Shawl" and the "Paws to Remember" scarf. The "Paws to Remember" is so cute--the border is little doggie paws! I may spin some yarn for that one.
And then, there was this, the only thing I had really planned to buy:
I am actually more excited over having my very own ball winder than any of the other stuff I bought--how sad is that?!?!?! (Terri--thanks again for the Christmas present!)
So, as you can see, I've been very, very bad. However, if you consider that we hadn't been to SWAK since at least December, I guess it could have been worse.
Now, if you'll excuse me, I need to go practice some restraint . . . .

Oh, yeah--how 'bout them Cowboys? We're goin' to the Sweet 16!!