Actual Knitting Content™
TAH-DAH!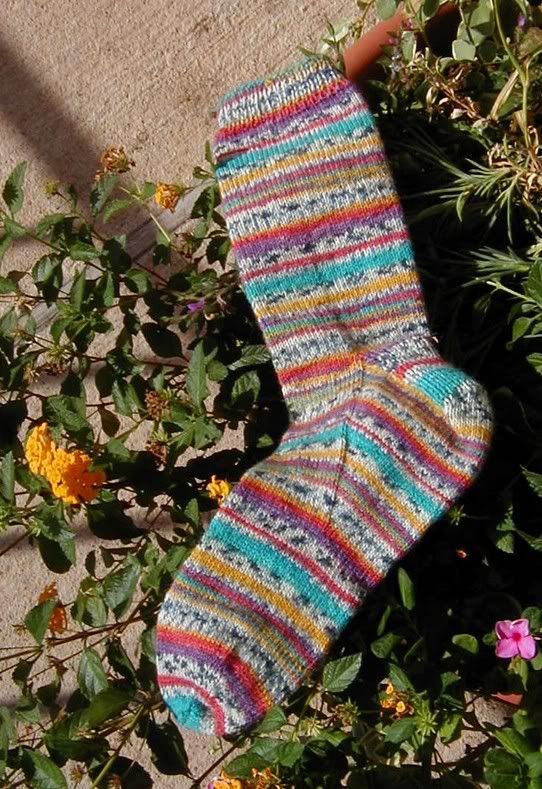 Yes, I have actually completed one sock! WOW! I finished this last Sunday night while watching the Emmys--actually, it was skimming through the broadcast, waiting for a few select categories to be announced. However, my week was so busy that I haven't had a chance to cast on the second one--maybe today.
There's one weird thing with this, though--look at the length of the gusset:
It ends up halfway down the foot! I know I was bragging about how pretty it was, but I wondered why the foot looked so small--it's because the gusset's so long. Oh well, it fits just fine, so I don't care. I just hope I can duplicate it a second time.
I am finally past my Really, Really Big Event at work. This last week was an absolute killer, so I'm glad things are slowing down a bit. That doesn't mean we aren't busy, but I don't have to tie myself up in knots every day wondering if everything will be finished in time.
So this weekend has been mostly stress relief. I haven't really done anything constructive, except I did make some soup yesterday.
Nanette
recently wrote about making a yummy
Corn, Tomato, and Basil Soup
, and I had to try it. The only fresh ingredients I had were the onion and the basil, but it still was really good. I ate it with some leftover french bread from Zio's--even better!
At some point I need to start getting the "garden" ready for Fall, but right now we're still having 90+ degree days, and besides, I just don't have the energy. I'm hoping maybe next weekend after this cold front comes through that I might be able to get something done out there. It's looking kinda ratty right now.
Basically, today will be getting whatever needs to be done completed by 7 pm so I can watch the season premiere of The West Wing, so no phone calls between 7 and 8 tonight, okay?