"Winter Weather Storm Warning"--
the four words that perks up every Oklahoman's ears and sends us into an unbelievable panic--and to the grocery store for provisions. Woo-hoo!!!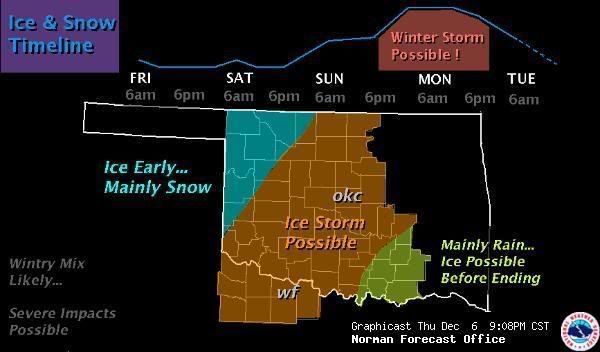 Weather Synopsis...Increasing Gulf moisture will combine with cool air already in place to produce fog and drizzle after midnight. Roads will mainly be wet... although icy spots are possible near the Kansas border. A warm front will reach Interstate 40 on Friday...with cold/drizzly weather north...and much warmer air south. The front will stall until overtaken by arctic air late Saturday. Conditions will then deteriorate...with freezing rain...sleet...snow...and low wind chills. Winter storm conditions are possible.
Yes, the weather outside may turn frightful this weekend and, unfortunately, straight into next week as well. I'm sure all the TV weathermen are so excited they can't see straight.
Me, I've been making grocery lists all week--must be fully stocked in case we're iced in until spring. Plus I think I should be getting a big box from King Arthur Flour in Vermont tomorrow, so hopefully I can get some cooking and baking done between looking out the window to see if we've been buried in ice.
We'll try to post an update later this weekend. Stay warm!
Labels: weather