It's almost Friday . . .
and I still don't have a whole lot to show for it. Actually, this is just a quick note before I sit down and watch the basketball games. I can use the excuse that I can't really concentrate on anything when I'm watching a game, but otherwise--I have no excuse.

I have been working on some UFOs--I am almost finished with a pretty red cabled scarf made of Debbie Bliss Cashmerino. I'll post a photo later.

And now, I'm off to the couch!



Go Pokes!!!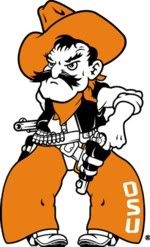 Oh, and one more thing--isn't this cute:
Spell with Flickr