Birthday presents!
Lookie what I got for my birthday:
That would be one bottle of Guy Buffett Cabernet Sauvignon Paso Robles 2001 from Judy and the "Making Waves" JnJ Knit Wits Kit from Missy! The Guy Buffett was on my list to try, so I was excited to get it. The Knit Wits Kit is a beautiful "fan and feather" type scarf. The yarn is Cherry Tree Hill (one of my faves) Silk Merino DK in the color River Run, and it is soooooo soft! I love it. Here's a close-up that shows the colors pretty accurately: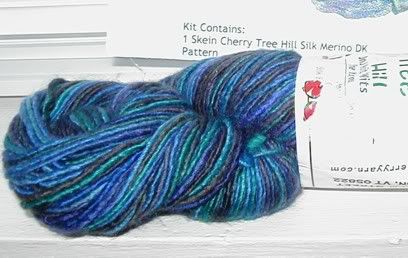 I cannot, cannot, CANNOT start this until I finish the two pairs of socks I'm working on. If I don't get some of this stuff done, I won't finish anything.
The office lunch yesterday for my birthday (a day early because my boss had a conflict today) was at Zio's in Bricktown overlooking the Canal. It was a beautiful day, and I love having lunch on the patio when it's not really hot. We had fun, the food was great (chicken artichoke pasta--yum!), and we got to throw our leftover bread down to the ducks below us. Today Judy, Missy, and I went to the Peacock Greek Restaurant downtown and had a wonderful meal of homemade dolmathes (stuffed grape leaves) and Greek salad. Judy made a great dessert roll from chocolate cookies and homemade whipped cream, and I think the three of us ate at least half of it.
All in all, it was a great day--thanks, everyone!