More garden photos!
Today I potted up the rest of the plants I bought yesterday. I had to make a quick run to the garden store, but I was smart this time and went at 8 am instead of 11 when it was so hot. It was a little better but not much. By the time I got home I was exhausted--AGAIN.
So, here's more pictures: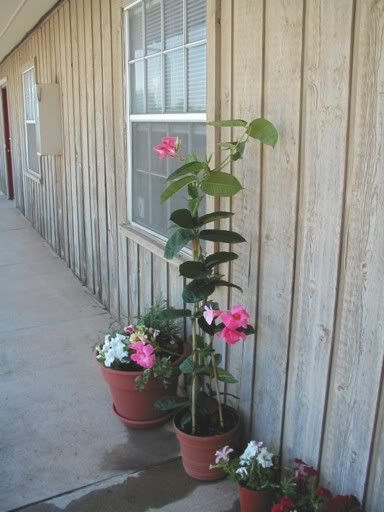 Yes, I bought a few more plants--shoot me! The little plant in a pot all by itself is an eggplant, 'Ichiban.' It's supposed to grow well in a container--we'll see. I need to do some research on what I need to do with it. The trellised vine is Mandevilla 'Alice du Pont,' and it is absolutely gorgeous. Here's a closeup of the flowers:
If I still have the desire, I may go back next week and get a few herbs and maybe a couple of tomato plants. My porch only gets about five hours of full sun a day--I'm not sure that tomatoes will do very well. I also need to get a few yellow or orange plants. I have a tendency to buy red and white, although I did get some purple and blue, but I need some yellow to make these pots "pop." I can tell the difference in the one photo with some yellow in it--it looks a lot better, I think. But that can wait until next weekend when it's a little cooler.
My neighbor David drove up as I was working outside. He was excited about the plants. He says gardening's "good for the soul." All I know is I'm tired, a little sunburnt, and a lot poorer, but really happy to be able to play in the dirt and watch things grow. I'd forgotten how good it feels to get pick out plants and get my hands dirty. There's a great sense of accomplishment in growing things.
As for knitting, I am working on another sock:
This is Fortissima Colori #9069 and is my first attempt at using self-striping yarn. I LIKE IT! The toe is a little weird--because I'm doing a toe-up pattern, one side is black and one is blue. I also forgot to tighten the stitches after I took them off the provisional cast on, so there's one row on the blue side that's all wonky. I may be able to fix it, but if I can't, that's the back side!
After at least six attempts that I had to frog, I've finally made it to Row 37 of the
Leaf Lace Shawl.
I don't have any photos of it, because I need to pin it down to take a semi-decent picture. This is another first for me--knitting lace. I love the Shimmer yarn, and it will be a beautiful shawl if I ever get it done! It takes a lot of concentration for me to follow the pattern, but so far, so good!
Anyway, these two days off work have been fun--can't wait for next week's three-day vacation! WHOOO-HOOO!