My Grandma & Grandpa's birthdays
This photo was taken February 23, 1963, at the 50th wedding anniversary party for my dad's parents. This photo was taken with the grandchildren and great-grandchildren. (Realize that I was the youngest of the grandchildren and the others were just getting started having kids.)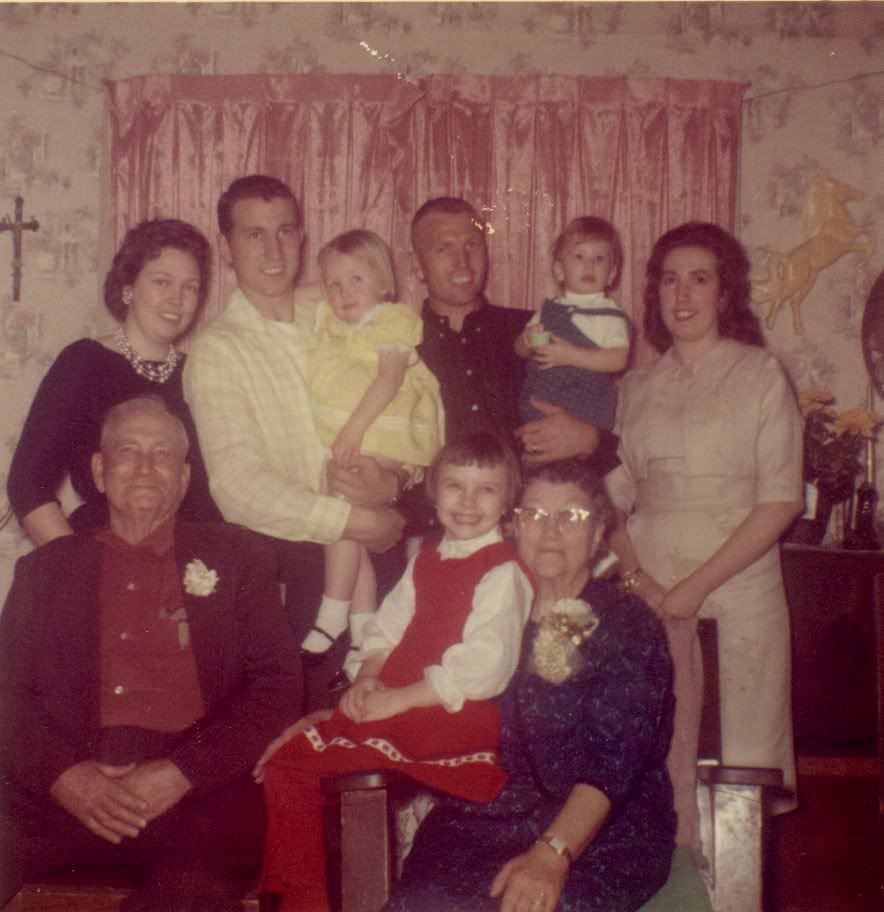 And yes, that's me sitting between my grandparents in my cute little red pantsuit. I was five at the time.
Grandpa was born on July 23, 1891, and Grandma was born July 31, 1893. It's hard to believe that both of them would be well over 100 years of age today. Even though they were both much older when I was born, I don't ever think of them that way. Nothing ever stopped them from doing what had to be done--talk about your "work ethic."
They were good people, loved by everyone in their small town. Everybody knew them and their kids. Even though their own brothers and sisters were spread out all over the country, they were still very close to them. There were "round robin" letters and a rare long-distance phone call between them now and then, and my great aunts and uncle would always come to visit and stay for weeks. We had so much fun.
My grandparents didn't have a lot, but they were happy with what they had. We kids would ride on the back of Grandpa's tractor, and Grandma and I would make homemade arrangements for the graves on Decoration Day. What I remember most was that they were kind and gentle and loving, generous to everyone they knew, and they loved me like I was their own child.
I had my Grandpa tied around my little finger. When I was little he would let me shave his head with an electric razor because it was so hot in the fields in the summer--would you let a 7 or 8-year-old kid do that? Well, he did, and he never said a word if I accidentally cut a little too close. Once the three of us were coming back from town, and down the road from the house we found three puppies that someone had dumped by the side of the road. One was black, one was brown, and one was spotted. Guess who got three new dogs that day? My grandparents took in all three and never said a word. I was ecstatic.
My Grandma was my best friend, and I would spend weekends with her and we'd sit up and watch Johnny Carson and the Late Show. We always spent the Labor Day weekend together so we could watch the Jerry Lewis Telethon--and we watched it all night long. She taught me to knit and crochet, play Old Maid and Go Fish, and she helped me with my 4-H sewing projects. She bought me my first Monopoly game with Green Stamps. Grandma thought the Beatles were "cute." During the summer, I would have to go the mile down the road to their house every Saturday afternoon so we could watch the baseball games on TV. Grandma secretly entered me into a My*T*Fine Pudding contest on the Foreman Scotty show, and I won a brand-new three-speed Huffy bike--I nearly had a heart attack when I heard my name announced on TV. That bike was the talk of the town, and I even got my name in the paper because of it.
After they moved to town, I would walk to my grandparents' house after school, and we'd watch Merv Griffin and Dick Cavett and have snacks. There were times when I was in college and would make the two-hour round trip just to take Grandma to the grocery store because no one else could take her.
Grandpa died in 1972, and Grandma continued to live in town by herself until shortly before she passed away in 1980. I consider myself very lucky--because I spent so much time with my grandparents, I got to know both them and my great-aunts and uncle much better than many of my other relatives. They were a very big part of my life for a very long time.
So happy birthday, Grandpa and Grandma--I miss you both very much.