Actual Fiber Content™
Since I obviously don't have any RECENT fiber progress to show, here's a photo of my first dyeing and felting project, the
Kool-Aid Striped Felted Bag
: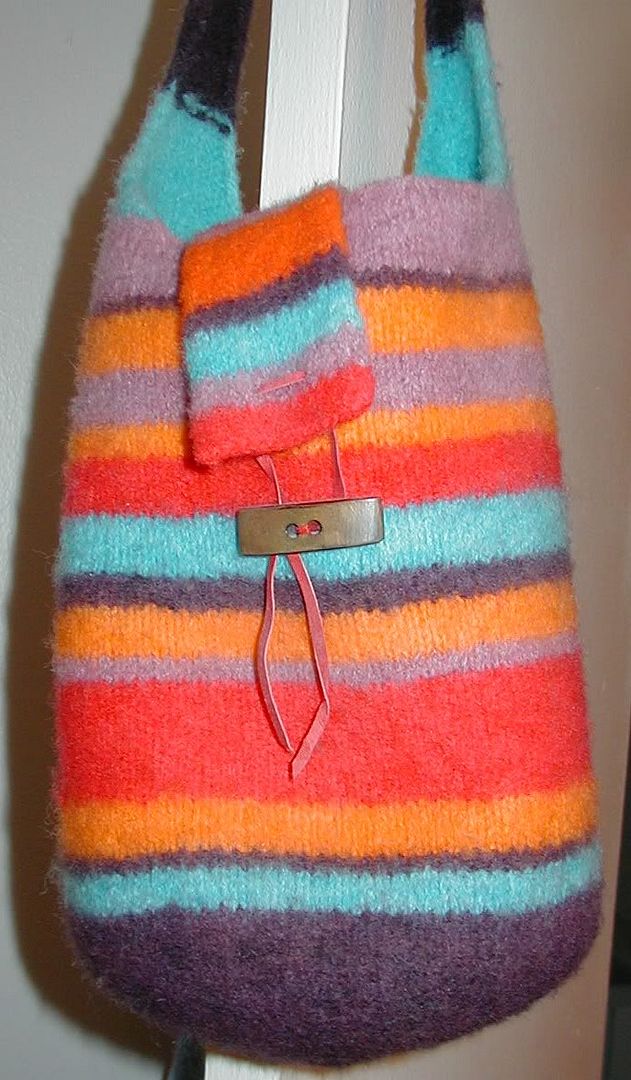 I've gotten a lot of complements on this bag. It's quite colorful and fun. It can hold a lot of stuff, and I like to use the lid from an extra-large container of margarine in the bottom to help it hold its shape.
I pretty much followed the color scheme with the striping as stated with the pattern, but I did have to adjust it a little because I ran out of some colors. I also added a flap by picking up some stitches on one side of the top and knitting a long stripe with whatever colors I had left.
There are several very good internet references on Kool-Aid dyeing, including
this one
and
this one
. I used the Lion Brand Fisherman's Wool and separated the skein out into approximate one-ounce skeins for dyeing purposes. I used a 9" glass baking dish and set the skeins in my microwave. I do recommend a few things:
1) Use heavy-duty rubber kitchen gloves--the lined kind are best. You will be dealing with not only the dye but very, very hot water and steam--you need to be careful and you need the protection.
2) Make sure that when you rinse your yarn after setting it in the microwave that you match the water to the temperature of the yarn. You should be able to match it just fine by feel. If your rinse water is too cool, your yarn will felt--not good!
3) Buy LOTS of Kool-Aid and dye more fiber than you think you'll need. I found, especially with the dark colors, that I sometimes had to dye the yarn more than once to get a darker, even color. You don't want to be in the middle of a big mess and run out of a color. Many times you can get Kool-Aid on sale--I've been able to buy 10 packets for a dollar. (You may also run into the fact that four different stores in the same company will not carry the same colors.) If you keep it cool and dry it will not spoil.
4) There seems to be a trick to the dyeing process. Maybe I used too much vinegar, I don't know, but there were times when it was difficult to get an even color. The yarn tends to absorb the dye immediately where you pour it and not so much when you're squishing it around in the mixture. (Yes, "squishing" is a scientific term.) Especially with the dark colors, you won't be able to always tell if you've gotten an even color until the yarn is dry--this is when it's good to dye it again. Of course, if you like the unevenness (and some of it can be very pretty), there's nothing wrong with leaving it that way.
5) Realize that your house will smell like fruit and vinegar for a few days afterwards. Not everyone likes this aroma, so you may want to open a window or two!
It's really just a matter of experimentation. You can probably ask seven people how they dye wool and you'd get seven different answers. The trick is just to try it and see what works for you. If nothing else, your resulting yarn will look very pretty displayed in a bowl as a centerpiece somewhere!
I've also tried dyeing with food coloring and unspun fiber and had different results. I think it's harder to get an even color with the fiber, but they still came out very pretty--almost jewel like in color: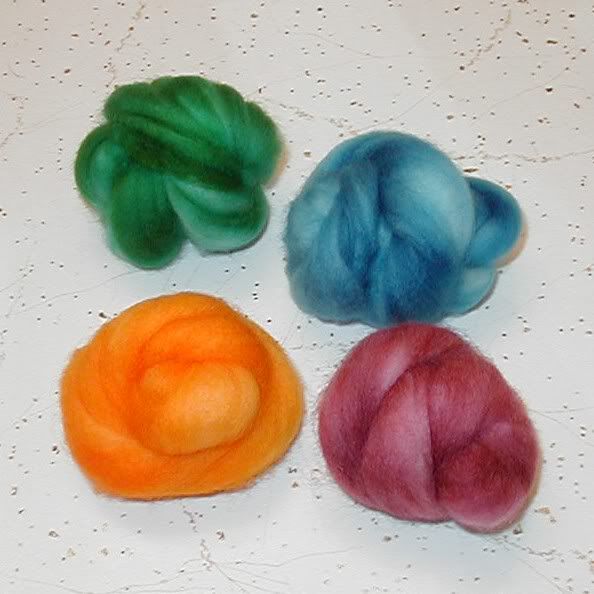 These were from a fiber sample kit from
Woodland Woolworks
and are all different fibers. Some did better than others. If you're going to dye fiber, it's a good bet to do a little research into which ones will dye best.
My favorite reference for dyeing in general is the
Twisted Sisters Sock Workbook
. If you love color and spinning and socks, THIS is definitely the book for you--mine has drool marks all over it. Most of the dyeing in this book is done with Lanaset dyes, and I've bought the "sock knitters' dye kit" from
Sheep Hollow Farm & Fiber
which has all the colors used in one of the book's examples. However, because these dyes are toxic, they have to be handled differently, and I haven't quite figured out how I'm going to do that in my apartment. I hope to try this in the fall.
As for the felting,
this
has a lot of good information. However, BEWARE--Rob felts his items loose in the washer. We found that using a zippered pillow cover contains the shedding, and we had no trouble getting things to felt. He's not kidding with those pictures in the article--you will seriously mess up your washing maching if you're not careful.
So now I've had Actual Fiber Content™ on this blog--it's about time, don't you think?