Down but not out . . . .
We're still having 90-plus degree days, and it's starting to take its toll on my flowers and veggies. Here's my poor tomato plant:
Poor thing, it looks like someone took a blow torch to it. I'm still watering it, but I think it's a goner.
However, there is some good news--my grape tomato plant is blooming like crazy and actually has fruit on it: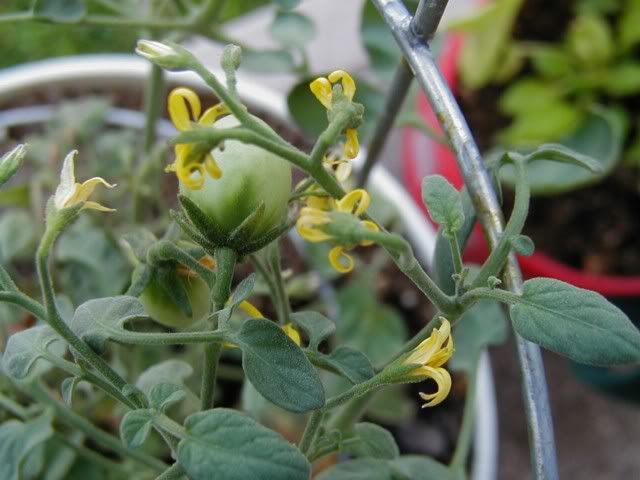 I'm just not sure it's big enough to handle many tomatoes, but it's trying!
And my poor eggplant--I finally cut off the one fruit that was on it because it was just burnt up. I figured that was the end of that, but since then I have found five new blooms! Maybe it's just getting its second wind.
And I actually have knitting to show! Here is one completed gusset, finished on Sunday: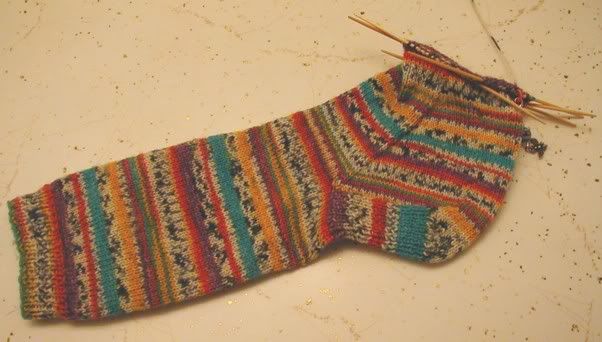 I did a simple k1 p1 heel, and it seems to be plenty stretchy enough. I'm not crazy about sl1 k1 heels--I like the way they look, but I tend to knit
way
too tight, and it hurts my hands when I knit.
Can I tell you how much I love this yarn? The yarn I used for my last pair of socks had issues with the color patterning in the white stripes. This Opal, however, does not have that problem-it just does what it wants. It looks really nice, and there are no futzing issues like before. It's pretty mindless, and I'm all about the mindless.
This is the modified stitch marker I spoke about earlier:
Using this to keep track of my rows really worked well--I think it's a keeper. This is one of a set of markers I made with bees and smiley suns.
There's a Yahoo Group, "
Oklahoma Knitters
," that's meeting tonight for the first time. Missy went, but I didn't go. Maybe next time. I think they're trying to meet on Saturdays, too.
We've been talking about going to south OKC and Norman for some yarn shopping, but we haven't committed to anything yet. We need to go soon because OU football starts the week after Labor Day, and there's no way I'd get close to Norman on a game day.
And, alas, the shawl has not progressed. I was so excited to have gotten through my gusset so easily that I couldn't put the sock down. I'm considering trying to pick it up again this week. Surely I can figure this out, can't I?
*****
PS--the Guestmap is not working for some reason. I am trying to figure out what's wrong, but for right now, it's useless. I don't understand--it worked when I installed it . . . .