I'm tired and sunburned, but look what I did:
No, it's not the world's largest rain gauge!
Ladies and gentlemen, please put your hands together for the "Beacon of Hope" located in Founders' Plaza at Stiles Park!
(I'm hearing Elvis' entrance music right now . . . duh duh duh, duh duh duh. . . .)
This 100-foot-tall monolithic sculpture designed by architect Rand Elliott is the centerpiece of the Founders' Plaza at Stiles Park. This park has been designed as a gift from the Oklahoma Health Center Foundation and its many generous donors to the Oklahoma Health Center for its 40th anniversary. The Beacon was installed today, and it was quite a spectacle. We had rain last night and this morning and were afraid we were going to be rained out, but the clouds cleared off and it was a beautiful day!
Now that the Beacon is installed, it will be painted a dark green. Once the Plaza is completed, the Beacon will beam a green healing light more than 5,000 feet into the night sky. The Beacon symbolizes "transformation." Formal dedication of Founders Plaza will be held later this year.
More information about Founders Plaza at Stiles Park and photos from today will be posted later at a
blog
I'm putting together.
Tomorrow is my third anniversary at my job, and I've been working on this project since Day One. It was a real thrill to see this happen today. This project has gone through several transformations to the final version, which is a $500,000 project. Even though I've just worked on the sidelines, there was a wonderful feeling of accomplishment in seeing this thing go vertical. This is
MY
park, and I'm very proud.
One more photo--this is my boss, Hershel, and our PR person, Terri, posing in the Park: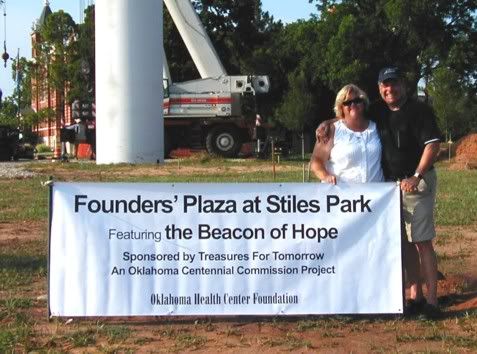 Congratulations, guys! You
ROCK
!
But now, I have to go put some ChapStik on my lips--I think they're sunburned.
(And all you people who couldn't stop saying "erection" today--you owe me five bucks for every time you said it--you know who you are . . . .)