Le Tour de Fleece - Days Thirteen and Fourteen
The merino/silk blend was plied yesterday, and looky here: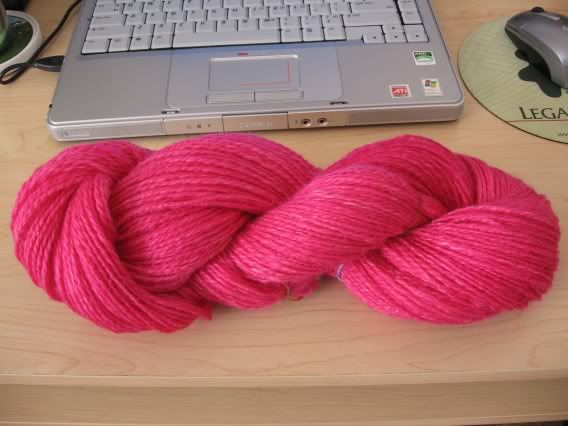 Isn't it pretty? And it's so squishy--I love it!
My "official" totals thus far are:
Skeins #1 and #2 - 1,146 yards of singles, 382 yards triple plied
Skein #3 - 768 yards of singles, 384 yards double plied
Totals - 1,1914 yards of singles, 766 yards finished yarn
For the next stage, I chose this:
Eight ounces of superwash merino pencil roving from
Crown Mountain Farms
in the colorway "It Takes 2, Baby." It's so cushy, it feels like a big pillow, and spinning--oh my! Spins like a dream, again so soft and pillowy, I think it will make nice, squishy three-ply yarn for socks.
And yes, it does have pink in it (sigh)--I guess I'm turning into a 6-year-old girl. I don't know why I'm so into pink all of a sudden, but I think this looks like roses: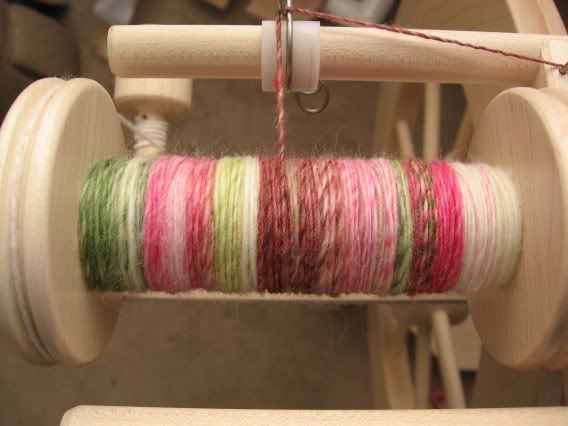 And now, since it's 8 am and I've already done laundry, watered the plants, refilled the birdfeeder, and caught up on the news, I think I'll go spin for a while before I have to drag myself up and start cleaning--yuck!