Saturday Sky - the joys of September
Saturday, September 9, around 830 am CSDT:
Clear but cool--the temperature is in the very low 70s this morning, with a forecast for intermittent rain later in the day. It's so nice to be able to get up in the morning and open the windows and enjoy the breeze and the sounds of the outdoors. Gives me energy that I truly need if I'm going to accomplish anything this weekend.
The sock continues to grow: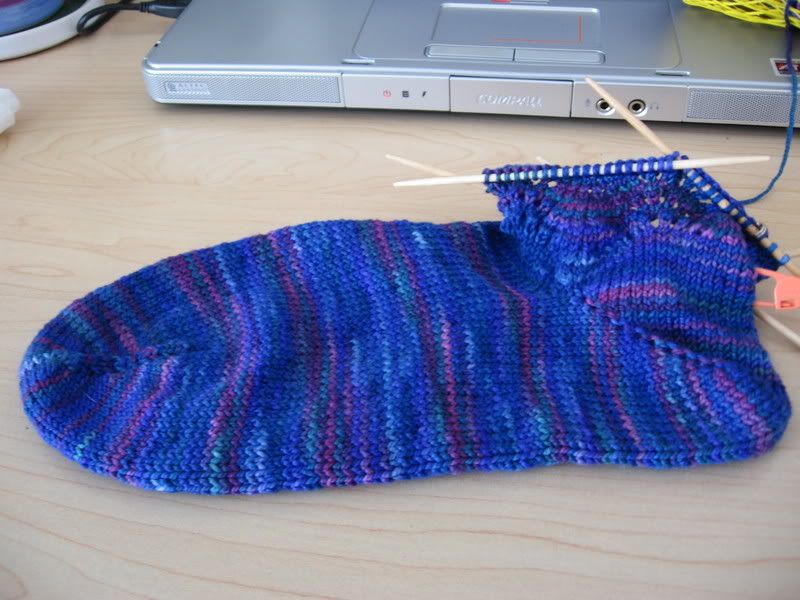 I would have been farther along than this, but I forgot one slightly important thing--READ THE PATTERN INSTRUCTIONS!!! I didn't realize I needed to leave the leg increased to 72 stitches, so I had to go back and tink several rows. But all is well now, and the fan and feather pattern is starting to look very nice. I tried to take a closeup of it, but it didn't look like much of anything, so you'll just have to take my word for it.
Plans for this weekend include working on the sock, spinning on the silk/merino blend, finishing up the back room, and some actual sewing. I bought a little wallhanging kit for a friend of mine who just moved into a new place. She's had a rough summer, so I thought a little something for her entry might be nice: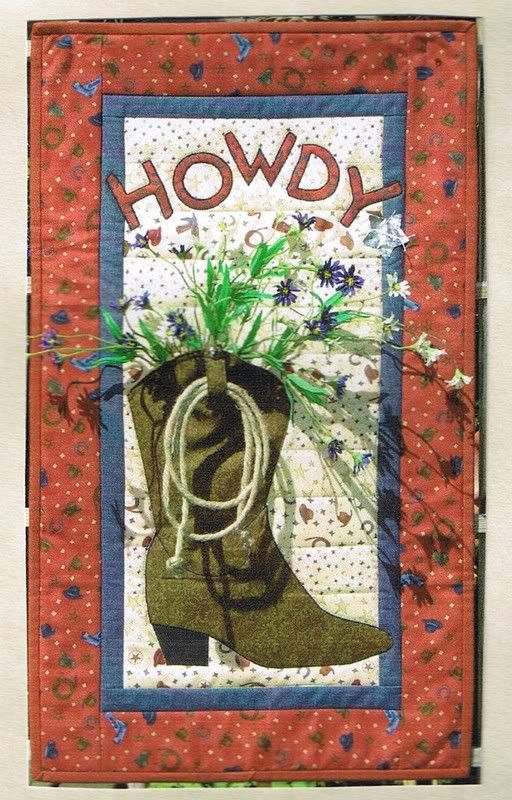 I wouldn't mind making one of these for myself at some point. I'm not big on cowboy stuff, but this is just too cute. I'm anxious to get to it. I think I can at least get the back pieced together and the appliques cut out this weekend.
Next week's plans include a road trip to Guthrie to the Apples and Quilts Festival, otherwise known as "The Continuing Saga of Missy and Katya's Great Adventures." We haven't hit the road since before little Mo was born, so this should be fun. Apparently Mo has started laughing and smiling, so surely she'll be a little happier to have me around this time.