Reorganizing the back room
After a few months of trying to decide what I wanted to do with my second bedroom, also known as the "storeroom" or my "soon-to-be craft room," I finally hit the jackpot today. I have been looking at various bookcases, cabinets, etc., but everything was more than I wanted to spend (hey, I spend money on important things like sock yarn and fiber and such--I know what's important). Last night I had found some inexpensive wire cubes on Target's website, but even still I would have to order them online and pay postage, and I still wasn't sold.
At lunch today I decided to run to Target to see what they had--mostly it was to kill time, but, you know, you never know what you'll find. And I lucked out. Target has all kinds of storage stuff on sale because it's back-to-school time, and I found the same wire cubes I had looked at last night on sale, but better! Packs of six cubes for $8 less than the four packs I had considered buying. Woo-hoo!
So now I have to figure out now to take this (pardon the lousy photo, but you get the idea)--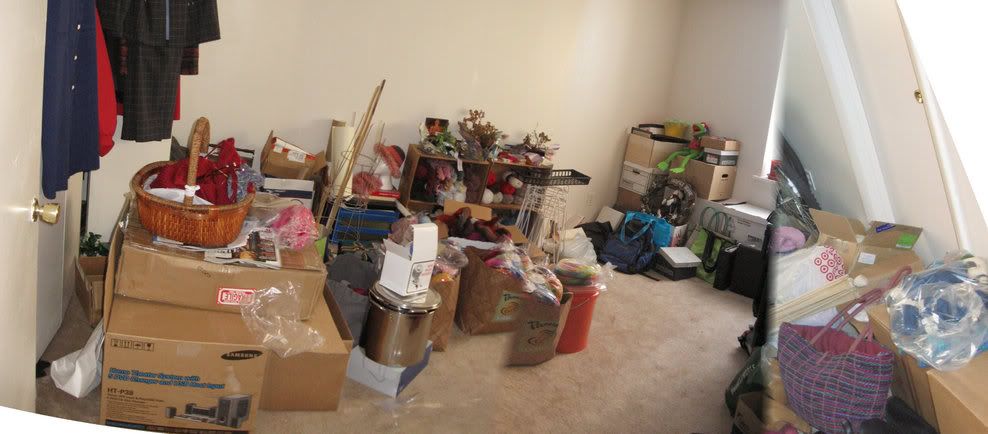 into something much more organized. I want to get at least a 4-foot folding table for one wall that I can use as a work table. I never have enough space to spread out when I want to. I have some posters that need to be framed, but I'm not sure that I'll have any free wall to hang them on. I'll have to wait and see.
Hopefully by Labor Day weekend I'll have something accomplished. I'm actually excited over the idea of cleaning the room--I can't wait to have my own personal "wall of fiber!"