A girl comes home from a hard day's work . . .
and all she wants is something to satisfy her, something to stimulate her senses, something to get her all hot and bothered (more than she already is from the heatwave we're having).
So what would fit the bill? (Okay, get your minds out of the gutter.)
This worked wonders: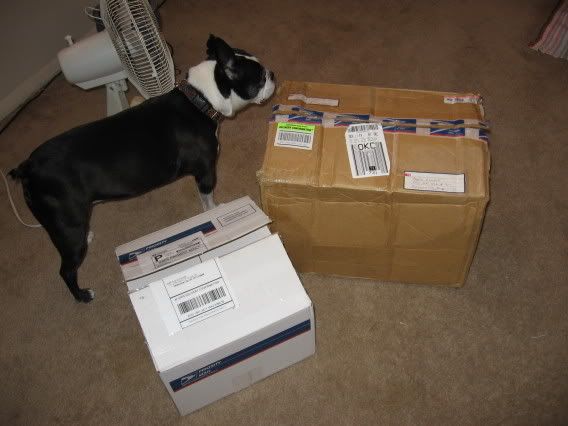 (Maggie's acting as my personal Homeland Security inspector.)
I'm sure my mailman's wondering what the hell I'm buying in these big boxes that don't weigh anything--yes, it's fiber.
Wanna see?
This was the first box--isn't this pretty?
Two pressies from
Yarn Botanica
, one of my new favorite places. The sack contains "The Traveler - Spindle Kit," and it's absolutely gorgeous: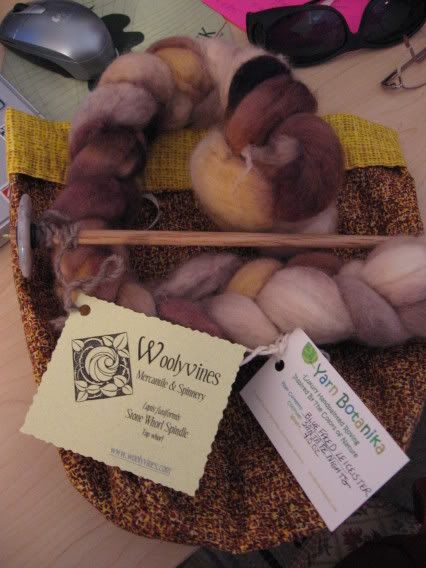 The ladies at Yarn Botanika put together these great little sock knitting and spindle kits. The bag is from
Knitted Bits
, the tiny little spindle is from
Woolyvines
, and the handpainted roving (blue faced leicester in "Santa Fe Nights" colorway) is from Yarn Botanika. I'm absolutely in love with it all, and look, I've already taken the fiber out for a spin: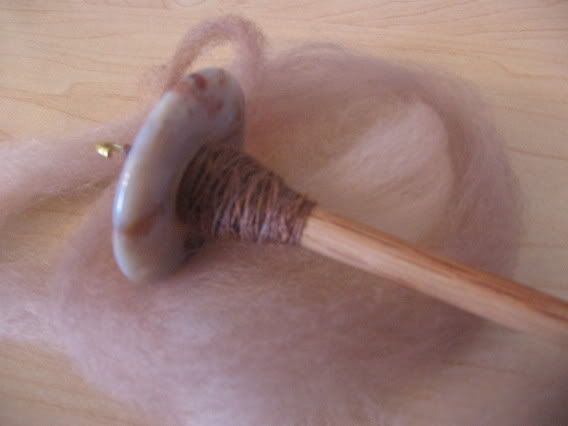 The little bag on the left contained this tiny gem: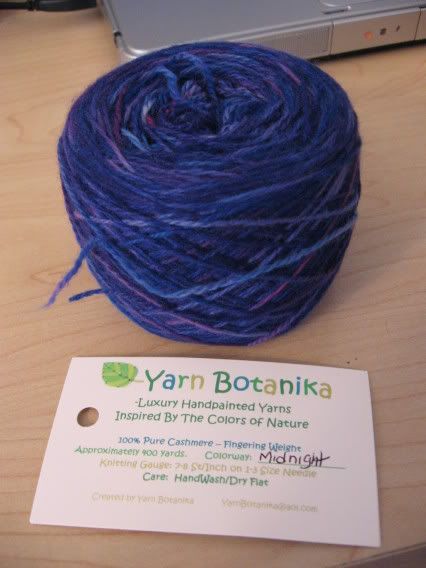 It's 100% pure cashmere, fingering weight, in the colorway "Midnight." It actually is much darker and more dark blue and purpley than this photo shows. I'm thinking maybe Wendy's
Feather and Fan scarf
for this. Or I may just keep it as a pet.
And the second box--well, the second box is a bit embarassing. After having a particularly bad day last week, I came home and ordered more fiber from Crown Mountain Farms. Remember how I've been so obsessed lately with pink?
I rhink I've moved into my orange period. Maybe it's a subconscious pining for Fall. There's 3 bundles of superwash merino and 4 of Corriedale pencil roving. It makes my fingers itch just to look at it.
And now, as penance for such extravagance, I want to publicly apologize to Wendy for mocking her for
buying so much sock yarn
(look at the end of the posting).
People who live in glass houses shouldn't throw stones.
And I'm waaaay too chicken to put all my purchases together and post it on the internets.