Saturday Sky - drowning in the heat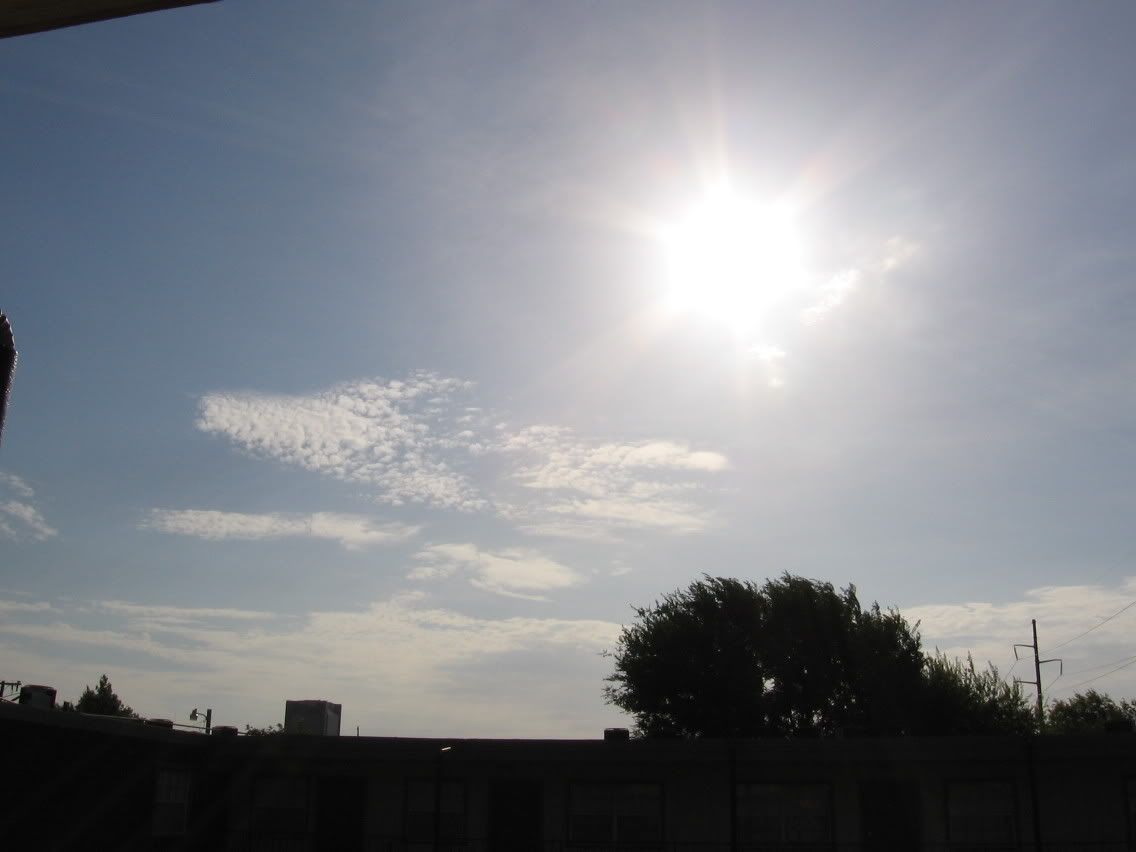 We're in a heat alert until 7 pm Sunday night. When I was complaining about the everyday temps of 100-plus a week ago, the humidity was in the 20%s by the hottest part of the day. Not this week. The humidity levels are lingering in the 30-50%s, and that plus the 100+ degree temps is making it quite sweltering. We keep having threats of rain--Thursday night we had clouds and thunder and lightning and even a little rainbow--
but nary a drop of rain, at least at my house. So the weekend plan for me and Maggie is to lay low and enjoy the air conditioning.
After all the excitment of the Tour de Fleece finish and the Yarn Harlot's visit this week, plus two days of absolute insanity at work, I was ready to call it a week. I've not touched anything fibery since Tuesday night because I've just been too tired. But today I plan to work more toward finishing that beautiful superwash merino fiber, so I'm looking forward to that.
"Cupcake"
:<) posted an observation about the new KnitPicks line for
Fall 2006
. I'm happy to see that they's expanded the "Bare" line, and this
Superwash/Nylon/Donegal Fingering Weight
yarn looks like it would be interesting to dye. I wonder how it would look after being natural dyed with someting like cochineal? Hmmm . . . I'm hoping to do some dyeing, but not until the weather turns cooler. I would be insane to try to do that now, even indoors under the air conditioning. I did finally find some stainless steel pots that I can use for dyeing. They probably aren't high quality, but I don't intend to use them a lot, so they should be just fine. Just thinking about this makes me want it to be Fall even more.
Think Fall . . . .
Oh look, the NWS just extended the heat alert until 7 pm Tuesday--joy.
A couple of people have asked about the stitch markers Missy and I gave Stephanie. No, I'm not selling them. I've made a few sets for me and Missy, and the ones I gave Stephanie were just made on a whim with some leftover beads and charms I bought at a local crafts store. The only photo I have of them is horrible, so I won't be posting it. Sorry.
Ina had asked about the stevia plant in my garden. Stevia leaves are extremely sweet, so I had planned on harvesting the leaves, drying them, and then grinding them into a fine powder to use as a natural sweetener. I may still be able to get some leaves, but the plant's future is questionable if this weather stays as hot as is it now.
Speaking of that, it's really late, and I still haven't watered. I'm off.
PS--look what I got:
Le maillot jaune!