Spring Sprang Sprung
Look at me, I'm posting!!!
I will explain my absence by saying only that life has been extremely busy and crazy the last couple of weeks and, while that's no excuse, what few brain cells I've had available for my personal life have been too tired to function enough to post. I'll be glad when tax season's over, and I'm only distributing returns, not actually putting them together. It's been so crazy that I missed my two-year blog anniversary on March 8. It's amazing how fast time flies, isn't it?
Spring has definitely sprung here in Oklahoma City. We've had 60 to 80-degree temps during the day, and it hasn't gotten below 40 degrees at night. I guess we can say winter is over. A week ago we had a pretty good rain, and it seemed that all the flowering trees and bushes bloomed overnight--add water, and POOF! We've got allergy season! Luckily, I don't have that problem, but a lot of folks do, and they've been miserable lately.
Unfortunately, Spring 2007 has brought some sad changes here. My little neighborhood grocery store, which I absolutely adore, is being forced out of business by the out-of-state corporate Meanies who bought their shopping center last year. It will be torn down and a new CVS built in its place--right across the street from a Walgreen's. We have so many older folks in this area, and they have relied on that store for years. Some people walk there, and others have their groceries delivered to them. But we must have TWO pharmacies right across the street from each other (as well as the one in the Target next door). Corporate greediness at its finest.
Then I found out Thursday that the two Hancock Fabrics stores where I've shopped since I was a teenager are being closed in a few weeks. In fact, all the Hancocks in OKC except for one on south side are to be closed. While I'm heartbroken about this, Hancocks did it to themselves. A few years ago they decided to devote half their stores to decorator stuff--I guess to try to compete with Hobby Lobby. Obviously it didn't work. So no more dollar sales on patterns, and we'll have to find somewhere else to buy basic sewing notions.
Can you tell I hate "progress?" Mostly because most of the time it isn't really progress at all.
Okay, enough of that. Since this is supposedly a knitting blog, I'll show you some
knitting . . .
. . . sadly neglected, but knitting nevertheless. I think I started this in, what, November? There's nothing on television to catch my interest, so I find myself spending most of my evenings playing with my plants and reading on the internets. Obviously I need to move away from the computer for a while.
The seeds I planted a few weeks ago are doing great--so great, in fact, that I've had to work up a makeshift greenhouse to put them all.
This is Version 2.0, made with painter's plastic, two six-foot poles, and masking and duct tape. Version 1.0 was smaller and made with two drycleaning bags and a yardstick. It worked great but was just too flimsy to withstand the winds we've been having lately.
I can roll the top back a bit and open the sides for ventilation. It actually works pretty well. Inside there is:
Tomatoes, peppers, zucchini, squash, eggplant, dill, cilantro, rosemary, thyme, chives, poppies, zinnias--more than I'm sure I will ever be able to fit on this tiny porch of mine. I may have to adopt some of it out.
Then there are these, my pride and joy: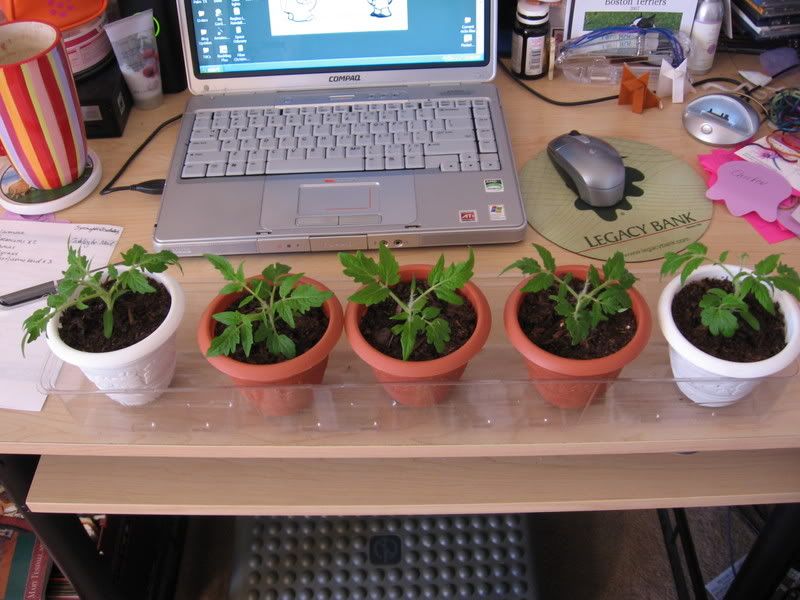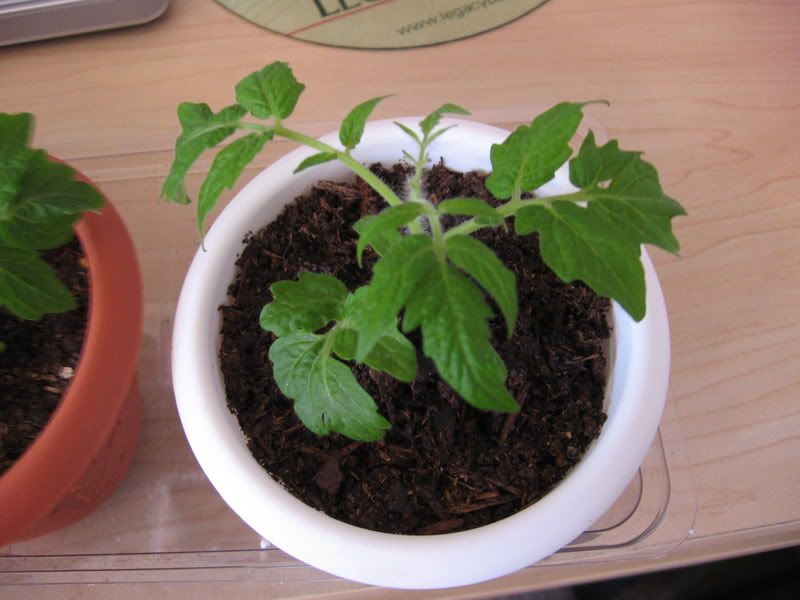 These are Micro Tom tomato plants. They won't get any bigger than this except to fill out with more leaves. They produce very tiny, very yummy tomatoes and are meant to be kept on the windowsill. Today was their first day out from under the grow light-I'm keeping my fingers crossed, because I'd love to be able to have these growing year round. I have one more still perculating under the lamp, so I'll have six total.
For the last year I've been trying to find a large strawberry pot, and they're really hard to find. Some places will have a few right at the first of the season, and if you don't starting looking for them early, you're out of luck. Last weekend I found one at Lowe's, a plain terracotta one, and I grabbed it faster than you could say "gehunzeit." The next day I decided to go out to TLC to "just look around" (who am I kidding?), and as you first walk into the greenhouses, all their big, beautiful planters are off to the right. What did I see but a dark purple strawberry pot! As I looked at it, I remember thinking, "Wow, that's pretty--I wonder if they have any . . . ." And I looked up and right there in front of me were the most beautiful cobalt blue planters I've ever seen--and a table full of blue strawberry pots! So, needless to say, I now have 2 of them, lord help me. I can't wait to see how pretty the strawberries will look in that blue planter.
Yesterday I got lucky and took the afternoon off to get a haircut and just breathe some fresh air. Of course I went BACK to TLC, because I needed strawberry plants--lots of them, obviously. Even though it looks like we're not going to have another freeze, I'm still not quite convinced that it's time to be putting out flowers and such, but people are buying stuff like crazy, and I guess I'm gonna have to break down and start getting my plants before all the good ones are gone.
Maggie would like you to know that's she's ready for Spring, too: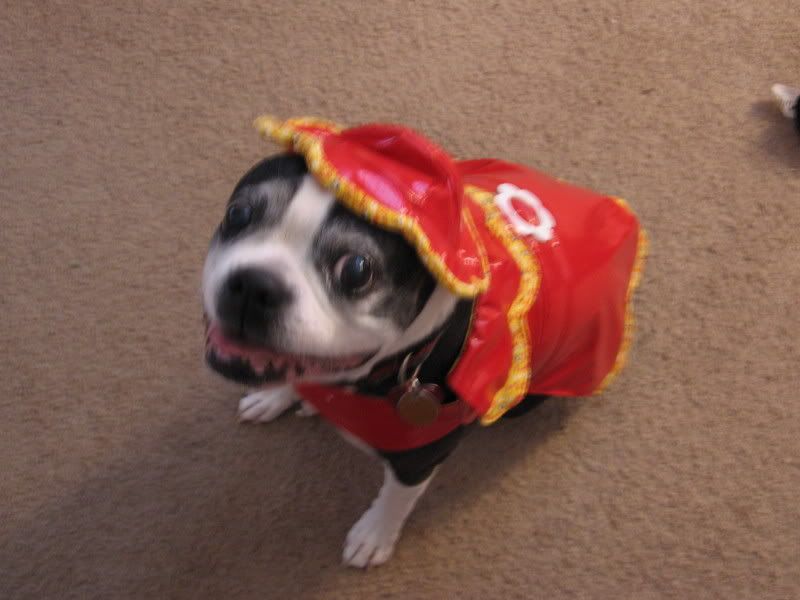 She was so excited at her new outfit that I couldn't get her to sit still for a focused picture.
Happy Spring, everybody!
PS--
Catherine's
at home and doing great--way to go, girl!