Saturday Sky - a week late . . . .
Saturday, January 27, about 945 am:
I woke up to rain and 44 degrees, and now snow?!?!? Shouldn't that have been here last week? It's snowing really hard right now, but it had lightened up for a while. Unfortunately it's too warm for anything to stick, which is actually just fine with me. After our storm two weeks ago, I'm ready for a break. But I know the farmers and ranchers are grateful for the moisture.
I have to admit, I've been in a bit of a funk since the holidays, and the last couple of days have been awful. I guess part of it is that I'm starting to feel my age and I'm not that old, damnit! Then yesterday an unexpected opportunity was basically dropped in my lap, and it sent me into overload. I'm afraid I ditched a good friend's birthday party to come home, drink beer and cry, and go to bed early. Anyway, if you could send some good, clarifying vibes my way, I'd appreciate it.
I've tried to pick myself up by finally going through all the gardening catalogs I've received lately. It's getting close to time to start some seeds, and I want to try a few new things. I have promised myself that I WILL NOT go overboard this year like I did last year (especially if we have another extra-hot summer), but it's hard to keep that promise when everything looks sooooo appealing (plant porn--who knew?). I did order a grow light thing for my seeds. The ability to concentrate light on your tiny little seedlings can make or break their becoming strong, healthy plants, and I never realized that until I tried to make do without one.
I did treat myself to a few plants this week. I needed something to perk myself up a bit. I bought a few herb plants (because I let all mine die last summer), a pretty croton plant, a couple of african violets, and, god help me, two orchids: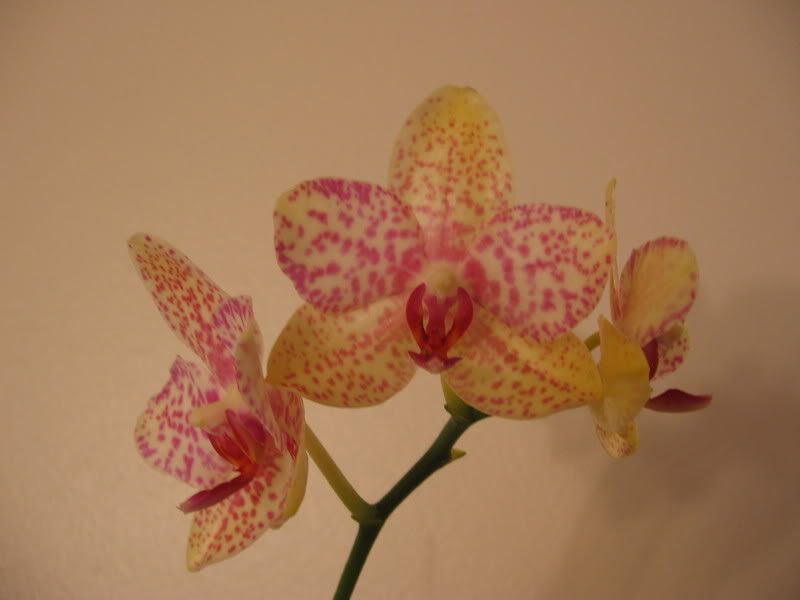 I also bought some cheap clay pots and paints at Michael's, and I'm going to spend part of the day cleaning them up and painting and stenciling them. I also think I'm going to pull in one of the planter boxes from outside and plant some lettuce seeds. It's definitely warm enough right now (they like it cool but not frigid), and if the temp drops, I can just bring the planter into the house.
Have a good Saturday!