Saturday Sky - what a week!
Saturday, December 9, about 9 am CST: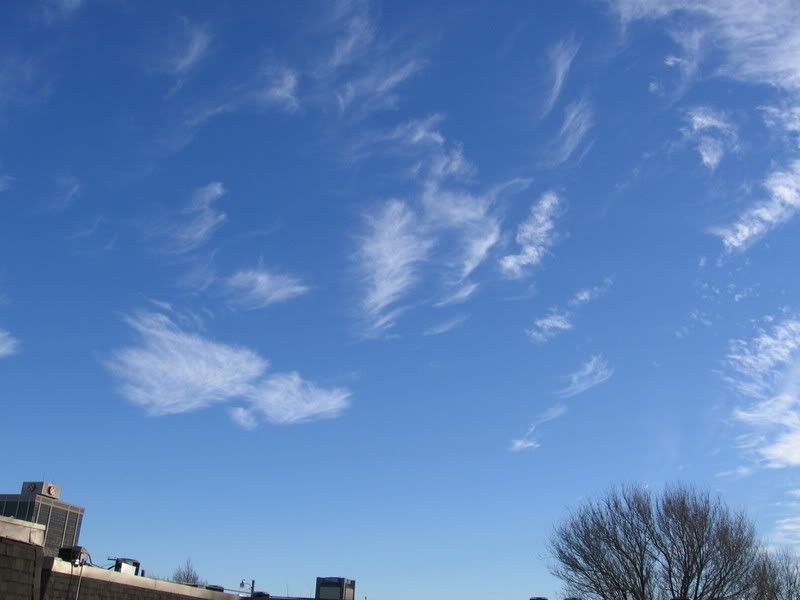 Pretty wispy sky this morning--still cold, though. At least most of the snow is finally gone, except for those big piles you find in parking lots around town. It's just not been warm enough this week for them to melt.
As for me, I'm glad most of the snow's gone. I fell getting out of my car at work Tuesday morning. Luckily I caught myself as I went down between two cars, so I landed on my left side, hitting my left shoulder blade and my left arm on the runner of my car. I didn't hurt myself except to scrape and bruise the top of my left foot, but, man, was I pissed. It was a patch of black ice no bigger than a salad plate, and I caught it just right.
This week was absolutely insane at work-I don't know if it's because it's close to the end of the year and we have a couple of things going on that are coming to a head before then or what, but man, was I glad when 5 pm rolled around yesterday. The only bright spot in the entire week was stopping at Starbucks yesterday morning to buy a couple of travel mugs to replace my old standard that finally bit the dust. How sad is that?
I have nothing to show for the last week. I've been working a little on my cashmere scarf--now that it's cold enough to actually wear something a handmade scarf, I don't have it finished. I also pulled out the mohair Cherry Tree Hill Jumbo Loop yarn I bought about this time last year--it will make a spectacular scarf. I've not gotten far on my sock--I've had to rip back to the toe at least twice. Maybe I'll have better luck with it today.
I did finish spinning the first half of the BFL I dyed a few weeks ago. I think I came pretty close to having the same length of singles on each bobbin--that's a first! I'm going to ply it this weekend--we'll see how well I did.
And can you believe how fast December is passing by? It won't be long until it'll be Christmas, and I still need to put the wreath on the door and the icicle lights out on the rail. Where does the time go?