Saturday Sky and "almost" finished Socktober Socks
Saturday, November 25, a little after 11 am CST: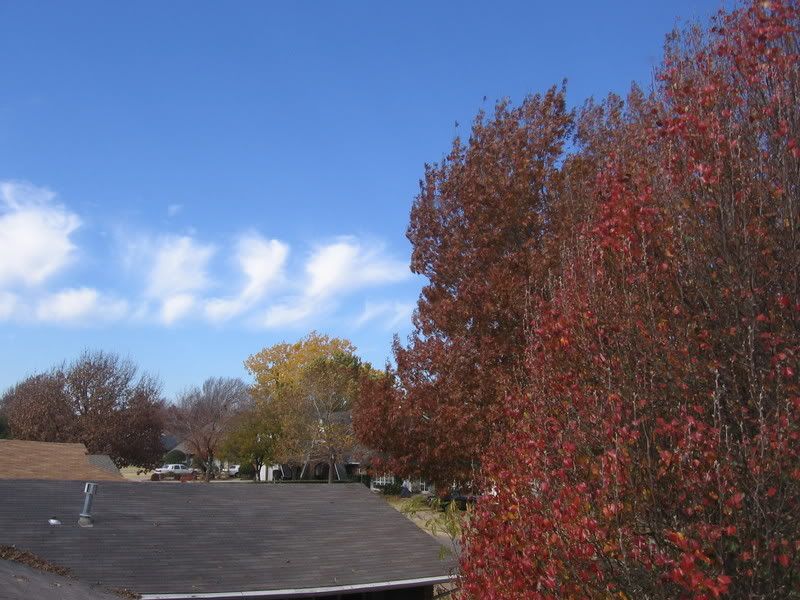 The morning started out somewhat cloudy, but now, at 11 am, it has cleared up quite a bit.
I haven't gone out yet to look at the fleece I washed yesterday. I'm afraid I may have messed it up somewhere along the line. That would make me feel bad, both for the sheep and for wasting something that could have been used, but if I did mess it up, it's only a bagful--at least it's not an entire fleece.
I "almost" finished the Socktober socks last night:
Yarn - Cherry Tree Hill Supersock Merino in the color "Fall Foliage"
Pattern -
Wendy Johnson's Spirit Trail Socks
Size 2 needles for a Size 8-1/2 foot
You see that I say these are "almost" finished. Look closely at the cuffs:
Sock 2 (on bottom) has a larger cuff than Sock 1. Oops . . . .
This is why I have to write down every single thing that I do when knitting. I had forgotten that I had used a Size 1 needle for the cuff so that it would stay up, being that it wasn't a ribbed cuff. However, now that I've done the larger cuff, I think I like it better. It's easy to get on and off, and even though the socks are slightly slouchy, I like that--they're comfortable. So at some point I'm going to rip back the Sock 1 cuff and redo it with the larger needle. I also think I have a looser gauge on the leg of Sock 2, but oh, well--at this point I'm just happy to have them done.
Anyway--socks (almost) complete! Now I have to pick out the yarn for the next pair. Too many good choices to make it easy . . . I need to pick out some more fiber to spin, too. (Can I have another four days off? I have waaaaay too much to do to go back to work.)
So, the UPS man never showed up last night (pout). But I'm still planning on dyeing today. I'm going to touch up the silk I dyed at the retreat, and then I think I'll pull out the Lanaset dye kit I have and see what I can come up with.
Maggie's plans for the day include a really long nap and pressuring Mom to make more cinnamon rolls (that's
all
Missy's fault).