Dyeing success
First thing I've learned--there's a damn lot of prep work that goes into dyeing fiber. More than I remember.
Secondly--you can NEVER had enough bottles, squirt bottles, and bowls. NEVER.
Thirdly--I reaffirm my extreme hatred for plastic wrap. The stuff is just evil, I tell you.
I wish I had lots of photos to show you of the whole process, but I don't have enough hands to dye and take photos and not ruin my pretty little camera, so you'll just have to use your imaginations (I know you have them, don't look at me like that).
So, while I'm waiting for Maggie's cinnamon rolls to come out of the office (see, Missy? You've created a monster), let's talk about what I accomplished yesterday.
I used the Twisted Sisters Dye Kit from
Sheep Hollow Farm and Fiber
. While this doesn't seem like a lot of dye, eight packages of 2-4 teaspoons of dye creates 8 quarts of dye. That's a lot, believe me. It took me an hour to mix just the stock solutions, then I attempted to mix the "Dye Pool" colors that are listed in the Twisted Sisters book. I didn't have some of the colors, and I definitely didn't come out with anything close to what they showed, but what resulted wasn't bad.
I used Blogless Laurie's dyeing instructions, as shown on Stephanie's blog from last year. This is the entire series, including ditzing, dyeing, and spinning, which is well worth reading. You can peruse these postings for an idea of the process:
The Wool House Presents
The Wool House Presents - 2
The Wool House Presents - 3
The Wool House Presents - Finale
You Spin Me Right Round
Singles, Chocolate, and Spinner's Limp
Hysteria and Navajo Plying
I dyed the fiber, four ounces of BFL, using the pantyhose technique in two separate pieces. I really like this because it keeps the fiber together without having to tie it up. It's hard to see what you're doing, but as long as you remember to "squish" the dye into the fiber, it works really well.
And this was the result: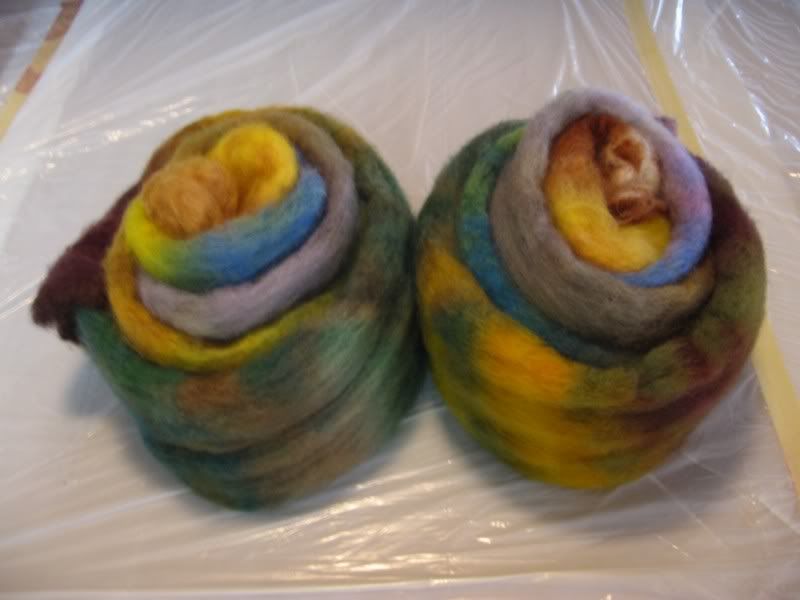 I used way too many colors, but I'm surprised at how consistant the colors ended up: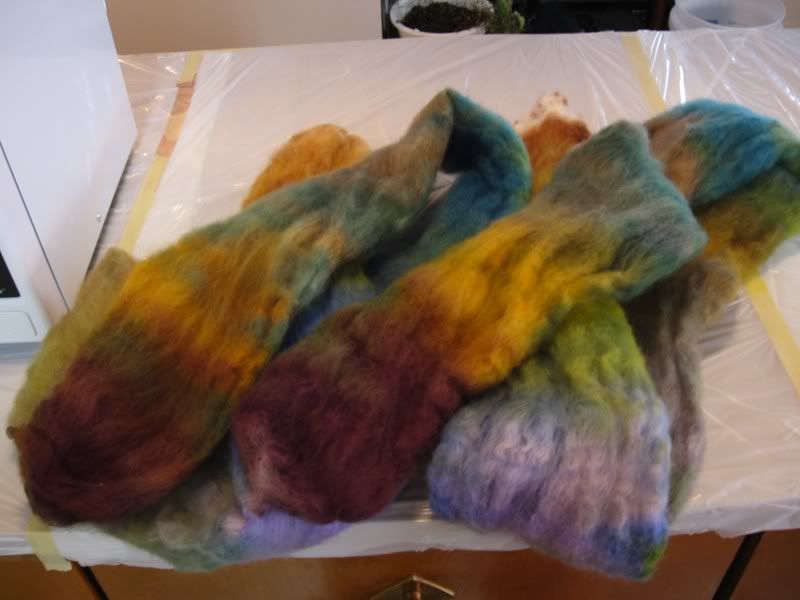 Last night I was afraid I had felted this when I rinsed it, but the fiber was really compacted from the pantyhose. Once I spread it apart a bit, it was fine. And oh, is it beautiful--I really like these dyes. They are super expensive but give really beautiful results.
Like I said, I have a ton of dye left, so I'm going to do some yarn today. I'm thinking violet and pink and maybe some green and yellow--suddently I'm in a Springish mood.
Speaking of Springish, I picked this yarn for my next pair of socks: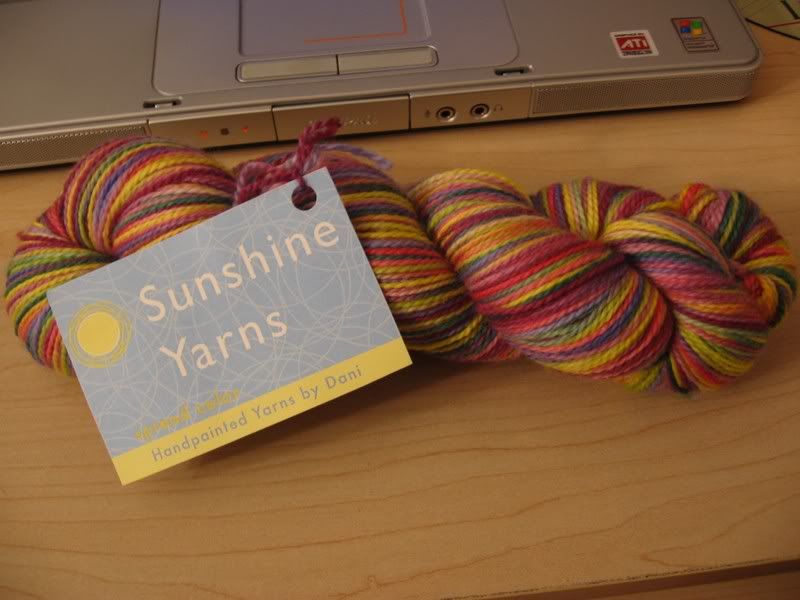 Superwash Merino from
Sunshine Yarns
in the colorway "Wildflowers." This colorway was inspired by a recent trip Dani took to Ireland. It's absolutely gorgeous, and I'm going to make another pair of Fan and Feather socks with it.
But right now, this is calling me--and Maggie, too:
Yum!