It's Saturday, so it's garden time!
We have eggplant in bloom:
We have newly planted herbs: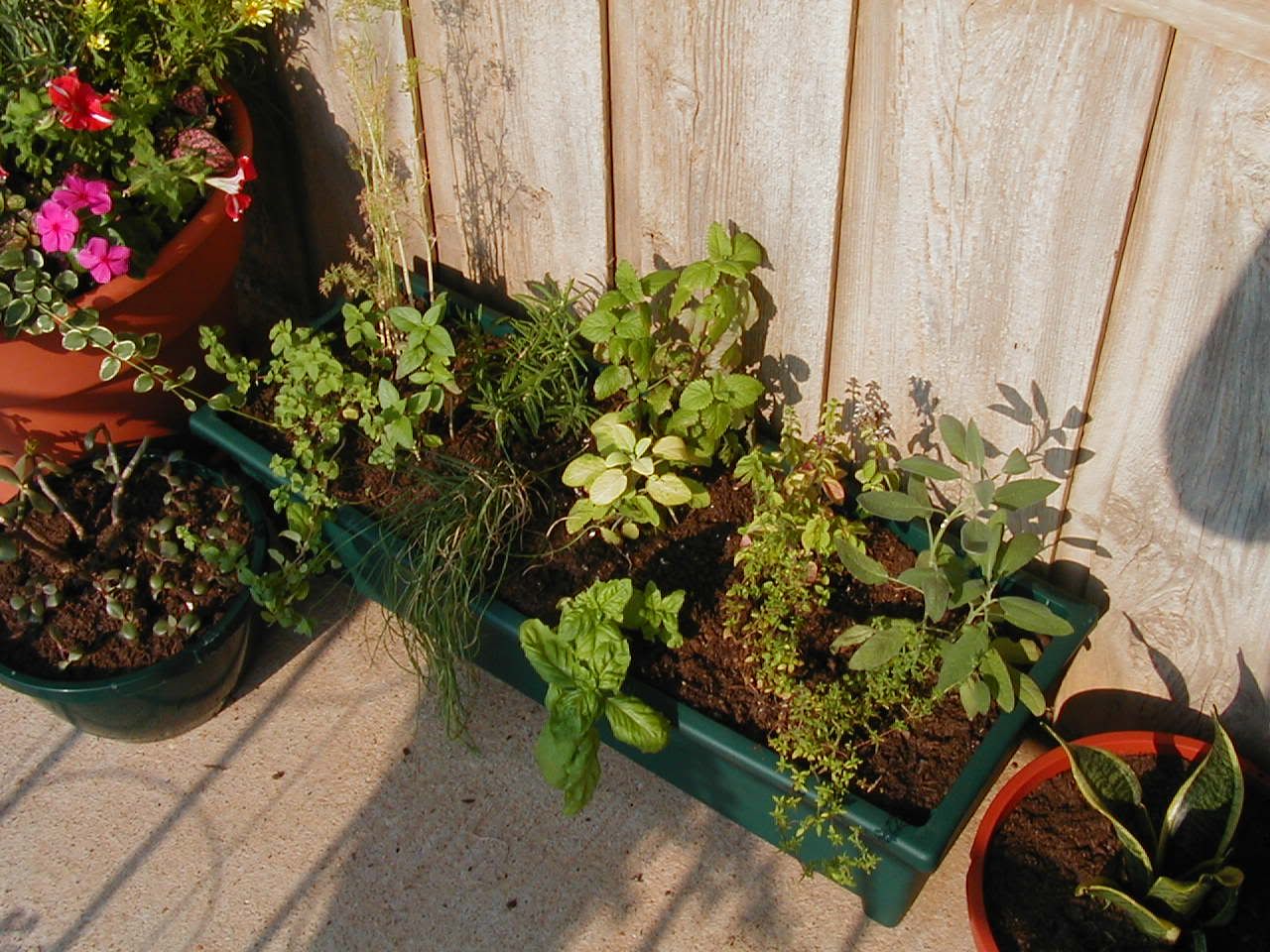 We have strawberries: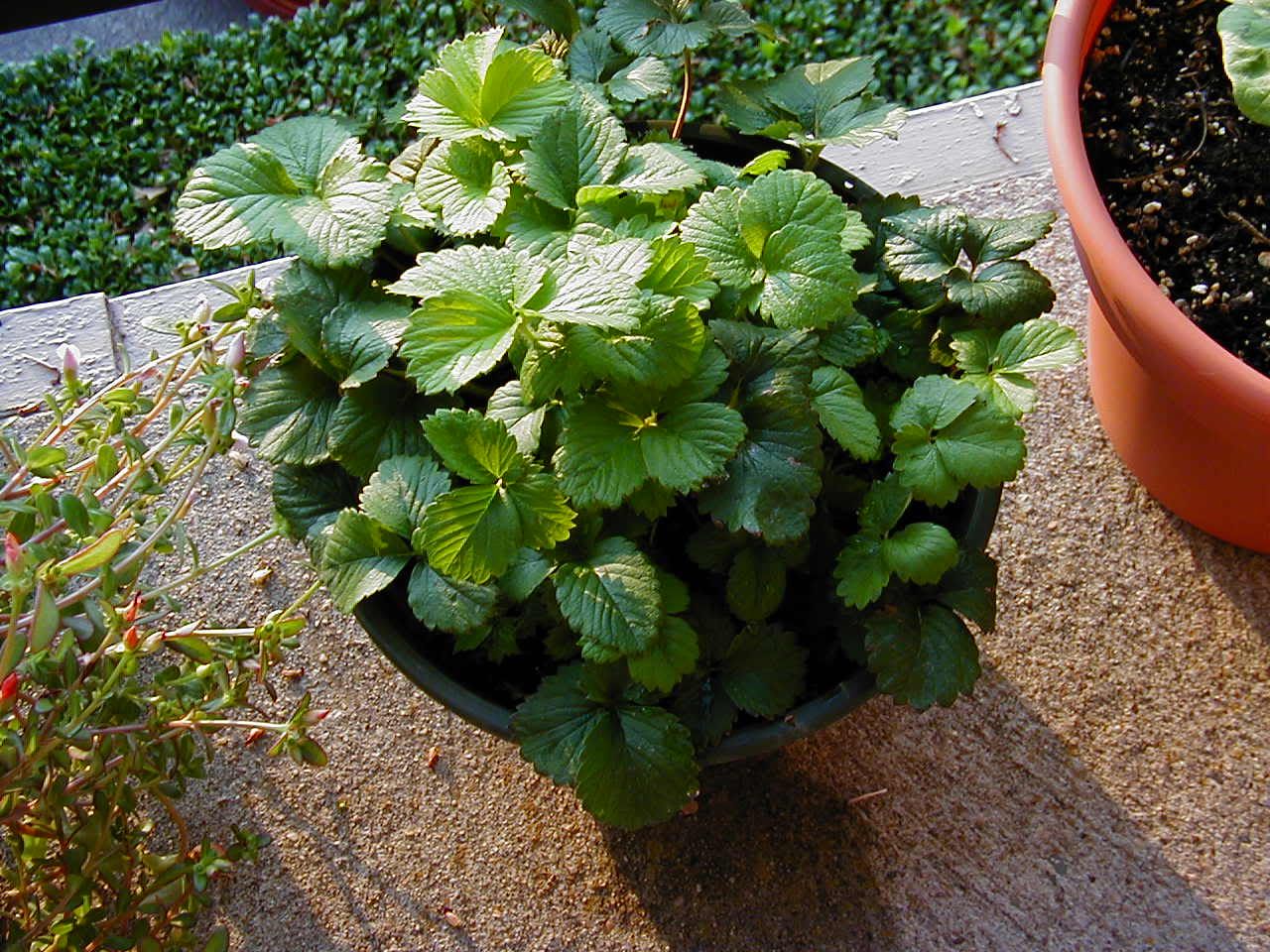 And we have flowers hanging from the railing.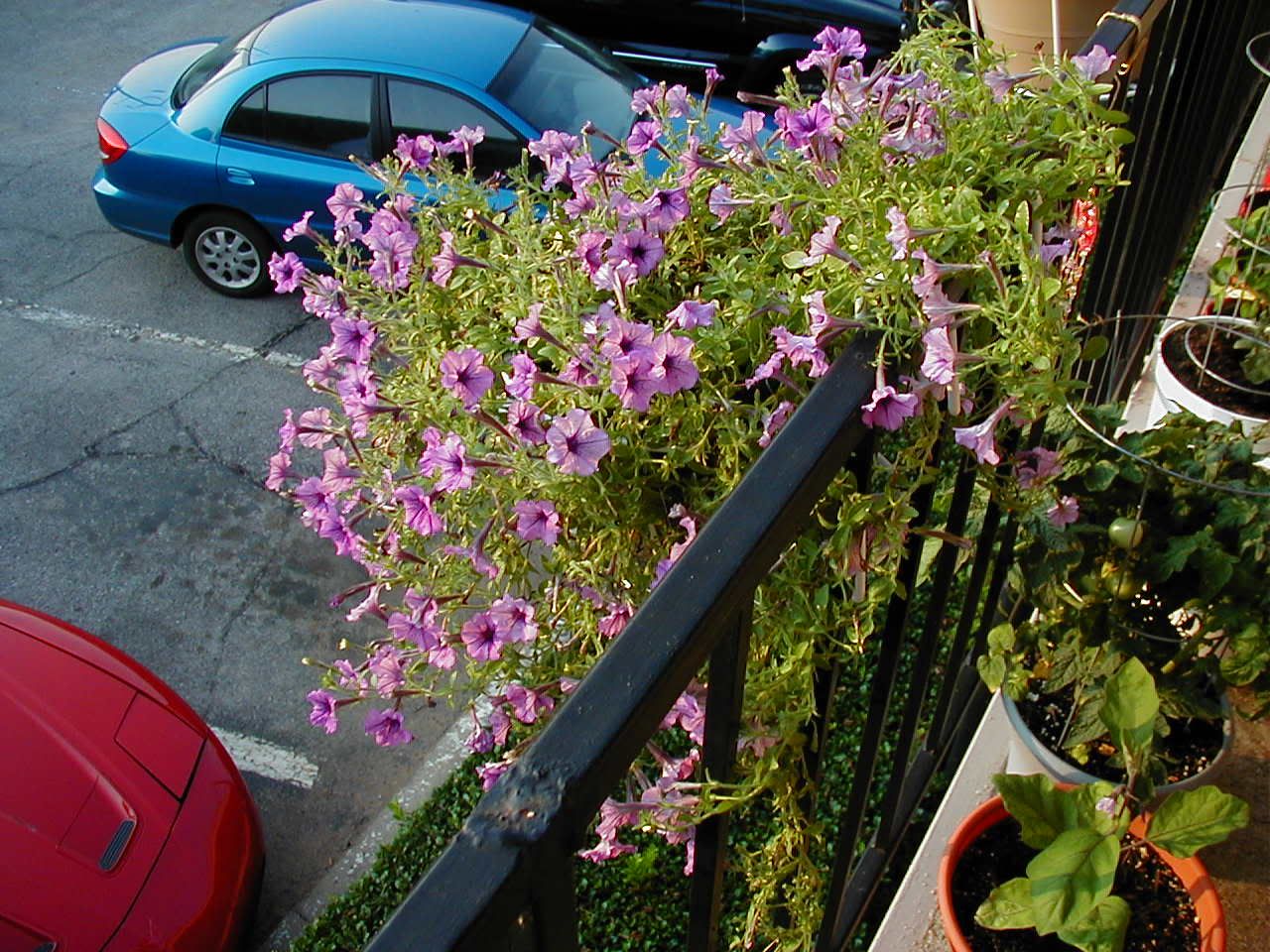 Thursday while we were out to lunch, Judy, Missy, and I went down to the old Farmers Market on Reno. There are several buildings around the Market that sell produce and lots and lots of plants. Since it's the end of June, everything is on sale, so of course we had to buy--how can you pass up a 10-inch hanging basket for $7? I mean, seriously, it's just not possible. So I now have an Emerald Falls dichondra,
and a mouse ears plant,
as well as the two big flowering baskets hanging off the railing and the strawberries.
The garden place had TONS of stuff, including the biggest white hibiscus I've ever seen--it must have been ten inches wide. They had blackberry and blueberry and raspberry plants with fruit on them. They had tons and tons of petunias and rose moss and periwinkles and flowering vines, and I wanted them ALL. I could have just laid down in the middle of it all, rolled around like a dog scratching his back in the dirt, and been perfectly happy to stay there for the rest of my life.
Is it wrong to say I want more? I MUST RESIST! I feel like I have to sneak things up to the balcony now as it is--my neighbors must think I'm nuts. But the railing baskets look really nice--you can see the flowers so much better now. Some of my neighbors have remarked how nice it is to have some color around the apartments--they're pretty bland. I guess I'm okay as long as my landlady doesn't come knocking on my door (knock on wood).
And yes, we also have one completed pair of socks:
I'm still working on the Opals, but I've decided to rip out the short-row heel and replace it with a regular heel. There just doesn't seem to be enough room in the gusset, and I'm afraid I'd never be able to get it on my foot. So that's what's planned for today.
As for my shawl, I've retyped the pattern, and hope that I can keep my place better this way. I'm going to try that this weekend, too. I'm really admiring the shawls that other people have completed so far in the Summer of Lace, but I'm having a little trouble getting myself kickstarted into working on it again.
I've been rereading the Jan Karon "Mitford" books this week--I've finished "At Home in Mitford" and am a hair away from finishing "A Light in the Window." I had forgotten how much I love these books. They're so positive and filled with joy and love, and the characters are so well written that you feel like you've known them forever. I can't wait to start reading the next one. I think there are six in all, so I have four more to finish them before the new Harry Potter book arrives. I think I can do that in three weeks.
I can't believe it's so late--why is it that time flies by when you're having fun but drags when you're not?
Don't forget
Saturday Morning Garden Blogging, Vol. XVIII
for more gardening fun!