Last day of vacation . . .
and to say I'm sad is an understatement. Why didn't I take the rest of the week off? Oh, yeah, I was afraid my boss would stroke out. I feel lucky to have been able to take four days. (And for those of you who think this job is as bad as the last one--it's not. I have a much better chance of getting a day off now and then than I ever did before.) While I'm sure Thursday and Friday will be quite the catch-up time, at least it's only two days until the weekend. That won't be so bad (hopefully).
I'm happy that Mother Nature took pity on me today and gave me a nice, cool, overcast day instead of bright and sunny. I'm tired of bright and sunny.
While I haven't gotten anywhere near done the things I wanted to accomplish, the best thing is that I've been able to step back from everything and focus on what I wanted to do and not on work or anything else. Why can't we do that more often?
Socktober is moving along quite nicely: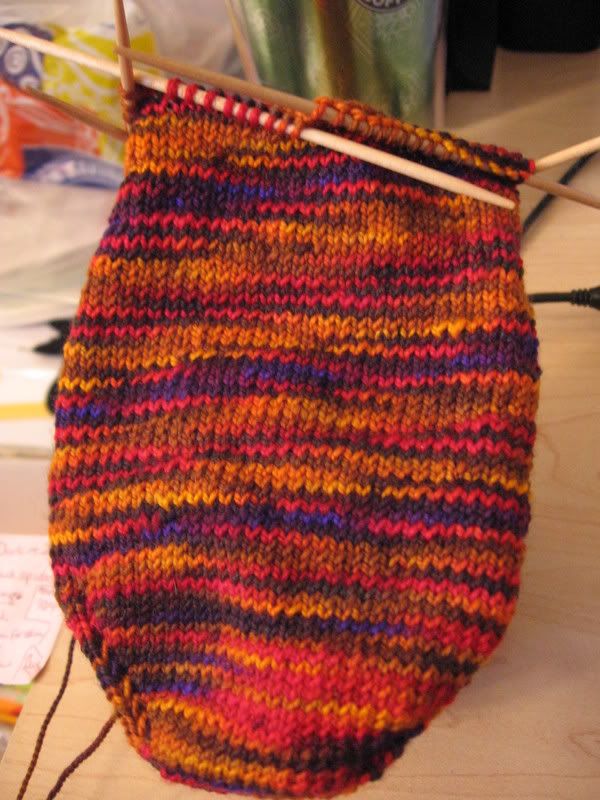 Some day I'll figure out how to take a more accurately colored photo. The sock is actually much darker and not as red, and it looks almost velvety because of the little spots of dark purple in this yarn.
You know, I'm finding that it really doesn't take that long for me to make a sock (at least not the kind of socks that I knit). If I'd just take a little bit of time every day, I could turn out a lot more finished pairs that I have been. I need to do better about that, because when I said before that I had enough yarn to make maybe 20 pairs of socks? Yeah, I was way off--it's more like at least 40 pair. Believe me, that made me do a double take. I swear, the stuff reproduces on its own.
Since this is my last day of freedom, I'm gonna go play in my fiber room. I'm still slowly getting stuff put away back there, and I'm amazed at how much I've accumulated in such a short amount of time. At least if I can get it organized, I'll surely be more aware of what I have and what I DON'T need to buy. Right?
Yeah, I don't really think so either.