Socktober score: 1 pair complete!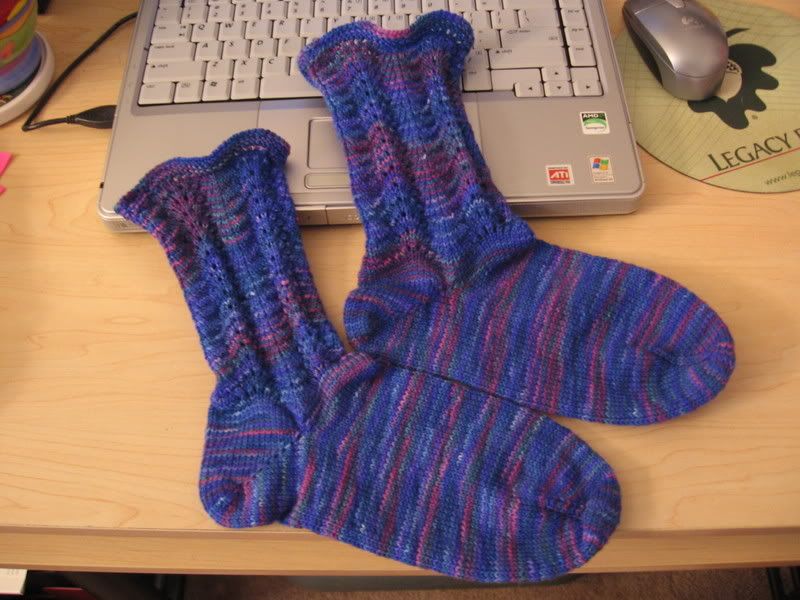 Wendy's Fan and Feather Sock pattern (toe up) with Size 2 needles
Cherry Tree Hill Supersock Potluck yarn, "Blues/Purples"
Started September 3, 2006
Finished October 15, 2006
Okay, so I started them last month, but I'm counting them anyway. This was a pretty fast finish for me, and I'm hoping I can continue the mojo with the next pair.
I love, love, love this pattern--in fact, I think my next pair will be made the same way:
More Cherry Tree Hill Supersock, this time in the colorway "Fall Foliage." How can I go wrong with a name like that during Socktober?
More yummy goodness--I bought this from Emmalita at the retreat this weekend. I was so taken by the color and the texture that I forgot to ask what it is:
It still has some lanolin in it and this is the first time I've spun something that wasn't processed, and I'm enjoying it. It's definitely different than using roving or sliver, and it takes a bit more concentration, but it's really nice.
Unfortunately, I have to put aside the fun stuff for a while and go clean house--the bug guy's coming tomorrow. At least I still have a couple of days to enjoy before going back to work.