Saturday Sky and a slight "oops"
Saturday, October 21, 2006, around 9 am CDST:
The days are pretty right now, cool in the mornings and comfortably warm in the afternoon, low to mid 70s. Why can't the weather be like this all the time? Although I'd like a few more cool, cloudy, damp days, to be sure.
The Socktober socks are coming along, and they're quite pretty. I like the stipeyness going on here: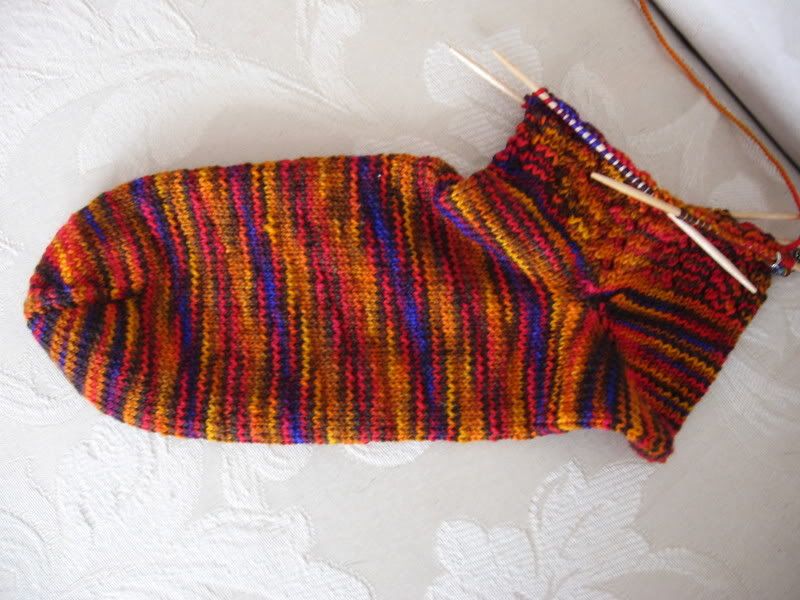 I've decided to use Wendy's
Spirit-Trail Sock pattern
for this pair, and I'm well on the way to getting this one finished pretty quickly. But last night I decided to try it on, and there's a problem.
I always make my sock feet 7-1/2 inches in length. I know I measured these, but when I tried them on last night, they're too long--not much, but still. I think it's a gauge problem--I didn't measure, but these look to be knitted a little looser than the last pair I made, and I'm using the same yarn, same needles, and same cast-on number. Comparing them shows that the foot is way longer than it should be.
What the heck was I thinking? This is further proof that there are times when I have no idea what I'm doing.
Luckily, I'm not that far along on the leg, so I plan to frog back past the heel to get to the correct length, and then start over. Oh well . . . .