Say goodbye to summer
Yesterday morning's pretty Saturday Sky turned into cold, overcast, and windy in the afternoon. I went out about 930 last night and picked the last of the tomatoes before going to bed: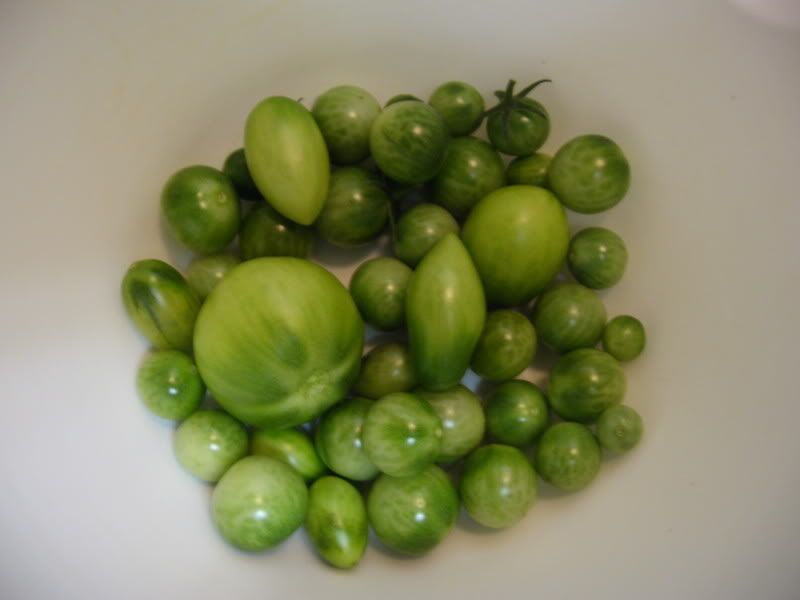 I couldn't stand to leave them outside in the cold, and we're under a freeze warning tonight. That's not all that came in: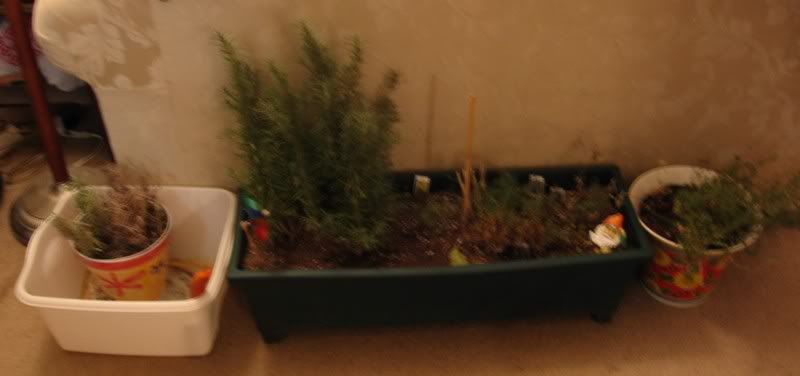 I'm hoping to keep some of my herbs alive for a while. There's rosemary, lavender, dill, and thyme here. Unfortunately my oregano has already bit the dust. Now I just have to find some place to put them out of the way.
And praise (insert your own specific deity here), I FINALLY finished plying the merino/silk blend:
I tried to make this look pretty, but I was too tired to care.
I think I'm going to tear out the little woven coin purse I started at retreat last week and use this yarn instead--it's so pretty, I think it would look really nice.
Man, I need to work on my spinning mojo--I am out of shape. I thought my left arm was gonna fall off, it hurt so bad. Then I bent over to my lazy kate and had a cramp in my midsection that took my breath away. I need to spin more, obviously.
My internet connection was down for several hours this afternoon. Somehow it lost the IP address--I have no idea why. I only realized it when my Palm started crashing every time I tried to open a problem, and that was without having the wifi connected. That was totally weird. After unplugging rebooting, I finally got it working again, but I was about to tear my hair out. You don't mess with my internet connection!
I picked up the Halloween/Fall quilt to work on tonight, but I was having trouble seeing the stitches, so I had to put it aside. Maybe tomorrow night under a better light.
It's hell getting old . . . .